It's been requested and demanded, and sexual favours have been offered. I've finally got off my lazy ass and put this together for you. The aim of this thread is to be a one-stop reference for imfromation on what are arguably the top two natural coals in the world right now.
Now some of you know that I've personally had some bad experiences with Exotica coals. This will neither be taken into consideration in this COALMAGEDDON contest, nor will I allow it to affect my judgement in any way. What will be taken into consideration at the very end is the plethora of evidence for the inconsistency of quality in Exoticas, however for the most part I will be judging the two top natural coals (
on these forums, at least
) based on the best each can offer. The Exotica coal I will be using is from Hookah-Shisha, and shows no signs of being "bad". I think it's also important to consider merchant accountability in these matters, so I'll be commenting on that near the end as well. On to COALMAGEDDON!
Exotica Review
Coco Nara Review
Exotica Disposal
Cocanaras Came In!
Coco Nara Website
Exotica Website

The Facts
Exotica Coals
are made from compressed charcoal, and are produced in the United States.
Coco Nara Coals
are made from coconut shell, and are produced in Lebanon.
Both Coals
are clean burning.
Both Coals
claim to have no smell or taste, to burn hot and to ash little.
Exoticas
are cheaper.

Flammability
I put both coals on at 4:02, being sure to break the Exotica into a piece comparable in size to the Coco Nara.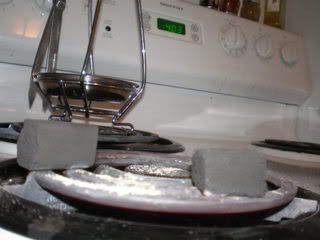 By 4:05 both are lit well enough to use on a hookah, as you can see the Exotica is more lit than the CN.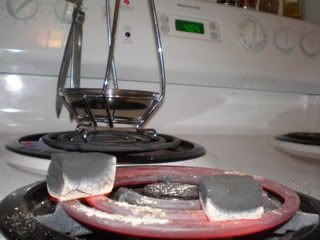 By 4:08 they are both completely lit, but notice how the Exotica has begun to splinter and crack. Remember, this is a top-quality Exotica coal from Hookah-Shisha.com.
It's also important to note that the Exotica took about 1 extra minute because I had to break it up first, and then wash the black shit off my hands.
Points
+1 Exotica
(Faster lighting)
-1 Exotica
(Cracked and splintered)
-1 Exotica
(Took extra time breaking up the coal, made my hand black)
Tally: Coco Nara 0, Exotica -1

Taste/Smell
Both coals emit a slight smell during the heating process, the Coco Nara smells like a campfire, the Exotica smells vaguely chemical. By 3 minutes into it the Coco Nara smell is completely gone, while the Exotica scent lingers for several minutes even after they are removed from heat. Neither coal has a noticable taste.
Points
+1 Coco Nara
(Very little smell)
+1 Coco Nara
(No noticeable taste)
+1 Exotica
(Smell prevalent even after smoking begins, but no noticeable taste)
Tally: Coco Nara 2, Exotica 0

Longevity
4:10, beginning of smoke. Tobacco is Nahkla Pistachio, hookah is a Mya Bambino.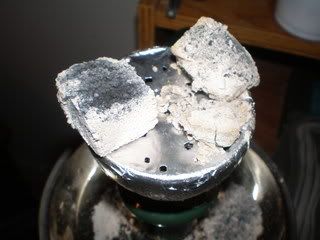 4:30, Coco Nara has lost very little size and shape, has made extremely little ash. Exotica has changed shape, shrunk considerably, and is ashing substantially.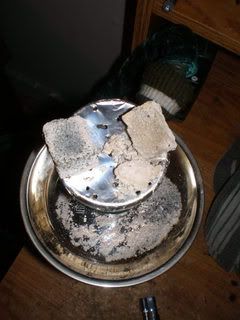 4:50, the Coco Nara coal is still only halfway spent, and the Exotica coal is almost completely ashed.
Points
+1 Coco Nara
(Longer lasting)
Tally: Coco Nara 3, Exotica 0

Ash
Coco Nara ashes less than half as much as the Exotica, and its ash is lighter.
Points+1 Coco Nara
(A clear ash victory)
Tally: Coco Nara 4, Exotica 0

Heat Management
Exoticas generally burn hotter, although even with the best luck you'll get inconsistencies even within a box of them. Coco Naras do not burn as hot, and every piece is the same.
Points+1 Coco Nara
(Much easier to manage heat)
Tally: Coco Nara 5, Exotica 0

Additional Consideration
Merchant attitudes
- When I received 6 unusable boxes of Exoticas, I sought compensation from the guy who sold it to me and the guy who sold it to him. I was called a liar and a thief despite photographic evidence, although after 2 1/2 weeks I did receive a partial refund. I think it's worth mentioning that, instead of taking responsibility for the obvious water damage, the merchants propounded that the only possible explanation was that mischievous Canadian customs agents either pissed or poured water onto the coals.
- When the shipping costs ended up being higher than their original quote, Coco Nara made up the difference without hesitation.
Points
-1 Exotica
(No merchant accountability, poor character and no respect for customers)
+1 Coco Nara
(Full merchant accountability, polite consideration and great respect for customers)